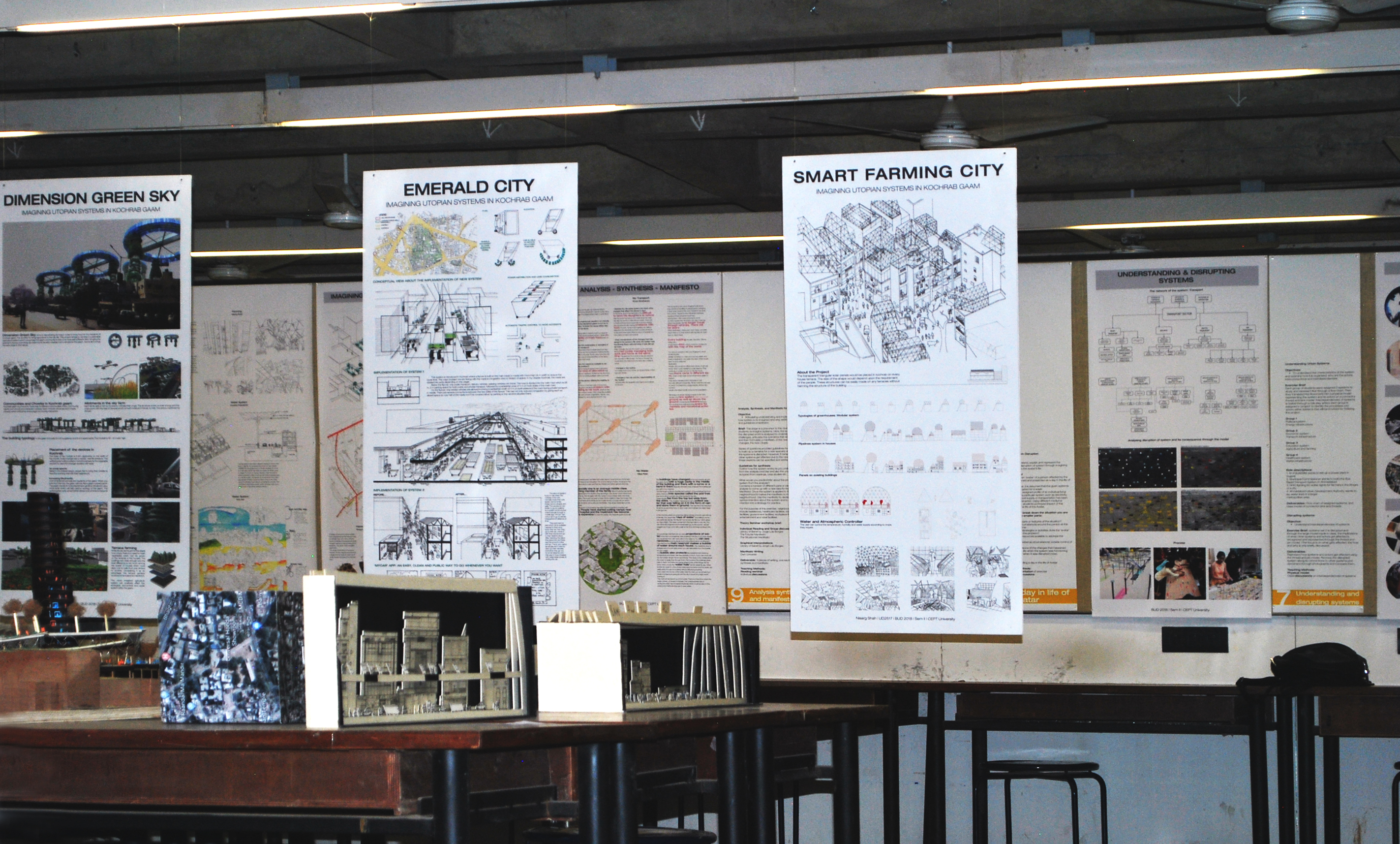 FOUNDATION STUDIO II. Spring Semester 2017/2018
Studio Title: 'Context and Utopia in Kochrab Gaam'
Core Faculty: Mansi Shah, Mehrnaz Amiraslani, Purvi Bhatt, Víctor Cano Ciborro
Workshop and Module Faculty: Ravi Sannabhadti, Maroof M, Shweta Ranpura
Academic Associates: Maulik Chauhan, Sanchana Sathyanarayanan
Students: Abhishek Mummithi, Aditi Thakur, Akshat Chaturvedi, Aman Shridharani, Anjali Rathod, Anushka Priyedarshi, Bhaskar Misra, Bhumika Sachdev, Haiya Dalal, Divya Rampal, Dibyashekhar Bhattamishra, Doshi Dhwani, Garima Sinha, Hariyali Gajera, Harshita Hemnani, Hetanshu Pandya, Himalay Zaveri, Isha Jain, Jaimin Bali, Jasveer Kalsi, Kelly Shah, Lopamudra Baruah, Makhija Prakash, Moryada Swargari, Naphade Chandan, Saloni Nathan, Nisarg Shah, Nitya Patel, Raghav Kohli, Ritesh Fpug, Riya Singh, Sahay Vidisha, Sakshi Sharma, Sharanya Pisharody, Shriya Dhir, Siddhraj Desai, Prachi Vyas, Tanmay Kapoor, Vidhi Parmar, Vidushi Tola, Vishesh Mahnot.

KOCHRAB GAAM CONTEXT CRITICAL PROFILE
Exercise Brief
To prepare a critical profile of the urban space selected by the student and demonstrate how the Urban life manifested in the space is affected by the networks, perception of the spaces by various users and the physical attributes of the space.

Learning Outcomes
-To express how the networks, perception of the space and structure of the place affect the activities in the space and hence influence the behavior of the users.
-To develop skills of documentations and analytical drawings to community properly the complexity and relations of urban realm.
'Contextualizing Kochrab Gaam'. Model by Haiya Dalal
An approach to Utopia concept through movies
'Her'. Model by Haiya Dalal
'Blade Runner'. Audio-Monologue by Dhosi Dhwani
KOCHRAB GAAM UTOPIA CRITICAL PROFILE
Exercise Brief
To create a critical profile about the whole area explaining the implamantation of the infraestructure of the Utopian system, and a detailed area where the development, improvements and consequences of the Utopia related to Kochrab inhabitant is detailed explained. Utopia is visualized from the large scale to the small one in a very specific context.

Learning Outcomes
-To be able to visualize from the scratch and detailed how a new system designed by the student works properly in an existing space.
-To develop a structured narrative for the whole Utopia.

Left: Panel by Kelly Shah /// Right: Panel by Hariyali Galera
Left: Panel by Nisarg Shah /// Right: Panel by Sakshi Naphade